Erasmus+ programme offers great opportunities to go abroad. Dr. Emilija Svirčev from University of Novi Sad, Serbia, visited our lab in April 2017 and now it was the time for a return visit. Maarit visited the LAFIB lab this November.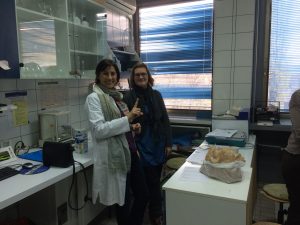 Erasmus+ programme is the EU programme for education, training, youth and sport. It aims to boost skills and employability, as well as modernizing education, training, and youth work. Erasmus+ offers different exchanges for students, teachers, staff and researchers.  These exchanges are excellent opportunities to create new contacts and cooperation with high-profile universities.
Maarit visited the LAFIB lab (Laboratory for investigation of natural resources of pharmacologically and biologically active compounds) in Department of Chemistry, Biochemistry and Environmental Protection in Faculty of Sciences at University of Novi Sad last November. The visit was a part of her university pedagogical studies and she had a great possibility to teach in another institution and deepen her understanding about the teaching-learning event at the university level education. The visit consisted of lectures on the tannin chemistry and LC-MS analysis of plant polyphenols. In addition, experiences on teaching methodologies and learning were exchanged.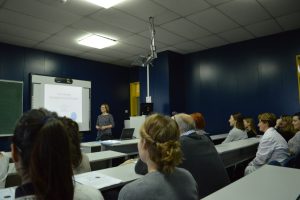 In addition, Maarit had the possibility to participate in a very special gala. Prof. Neda Mimica Dukić was awarded "Lifetime achievement award" in the field of natural sciences by Association of university teachers and scientists of Vojvodina. The whole ceremony took place at the Parliament of the Autonomous Province of Vojvodina. This award is given yearly to recognise someone's contribution in the different fields of sciences over the whole of a career. Other laureates were selected from medicinal sciences, biotechnology, social sciences and technical sciences.