Practically every biological event we witness in nature is somehow related to chemistry and chemistry can be used to explain these ecological phenomena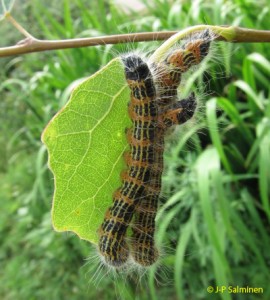 Studies of the chemical aspects of birch-insect interactions in early 1990's began our lab's long-lasting scientific path in the field of chemical ecology. This is a field where collaboration with high-quality ecologists is a necessity for chemists to achieve results of high importance. We have been very lucky by attracting many of the top ecologists to work with us.
For most parts our studies of chemical ecology have related to plant-herbivore interactions, or more specifically plant-insect interactions. This field is quite challenging, since the ongoing evolution of both plants and insects causes a continuation of changes in the ability of plants to effectively defend themselves against herbivores and in the ability of herbivores to tolerate plant defensive chemicals. To follow this battle that causes evolutionary shifts in the production of plant polyphenols is actually very fascinating for a phytochemist, since for instance it opens up possibilities to finding fully new types of tannins in plants.
Our flag publication in this front clearly is the Science paper:
Agrawal, A.A, Hastings, A., Johnson, M.T.J., Maron, J.L., Salminen, J.-P. 2012. Insect Herbivores Drive Real-Time Ecological and Evolutionary Change in Plant Populations. Science 338: 113-116.